During the month of February, we're reminded of all the people we love. The glittering hearts, chocolate overindulgence, and tents filled with bouquets on the side of the road are a flashing-red-neon-sign that we prioritize who/what we LOVE. I know you love your spouse, kids, cat, dog, etc. (at least I hope you do), you even love your car, TV, favorite actors and authors.
My question for you today is… Do you love writing?
I could do a Top 5 Things I LOVE About Writing list, but that wouldn't be very personal. Love is personal. If you didn't already know, the 'love' I'm referring to is not a feeling, it's an action. Let's use 5 writing exercises to expand your love for writing, and (hopefully) discover what will inspire you to find and claim your priorities. These questions have helped me say 'no', put the TV remote down, and stay up an extra hour to do what I love, write.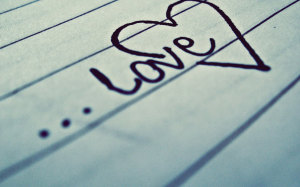 #1 Make a list of the 10 people/things you love most. Continue reading →